It's been 17 days.
I wear glasses now!!!

Got them at Wal Mart which was painless. Mom footed the 50 dollar exam fee and I paid 38 dollars for the new glasses.
I just got back from Mom's after house sitting on Thursday until Monday (two days ago) The place was a friggin' paradise! Morning jacuzzi soaks, inground pool, scenic lake views, food, and of course, taking care of the dog (who is SO not a puppy anymore but her heavy self insisted either on sleeping ON me or backing me against the wall XD) watched movies, etc.

All one big vacation practically for me.
I was unsatisfied with my Ipsy makeup mystery purchase so I brought the bag to Jens to do a makeup swap for makeup I ACTUALLY wanted!
Mom got me an aux cord (as I was tired of one being missing from her car) AND a 15 dollar iTunes gift card which I used to get great songs (including a Maddie and Tae album for around 5.99 on sale) and a full paint app.
As for that hundred bucks for house sitting.....
$20 dollars on lindens for Secondlife. Paid up my rentals there and gifted April a bit. Very happy.
27.99 for a new webcam, praise the LORD! Don't even have a mic on my computer let alone cam.
$21.71 on books.
This Fabulous Century series, Years:
1900-1910
1910-1920
1930-1940
1940-1950
1950-1960
I already own 1870-1900 and 1920-1930
Only not ordering the final 1960-1970 version because it was higher priced and I want to save my money at this point.
And...Jen introduced me to Wish.com. It started when I simply shared a post of this ring I liked from my Facebook feed. I'm a sucker for crowns.
Costs $1.90 INCLUDING shipping. Only downside is shipping will take forever but who complains at that price.
$22.90 got me all this, INCLUDING shipping.
The wig itself was only 7 dollars!!! AND I've been surfing Youtube on how to enhance wigs to make them realistic so this will be even more of a steal.
All below INCLUDES price after shipping.
Wig: 7 dollars
iPod holder: 2 dollars
Mannequin head: 3 dollars
Mouse: 3 dollars
Fishnet gloves: 2 dollars
Ring: 1.90
Chalkboard stickers/pen: 4.00
Good thing I stopped myself as I was worried about compulsive shopping.
These are the pros. ;)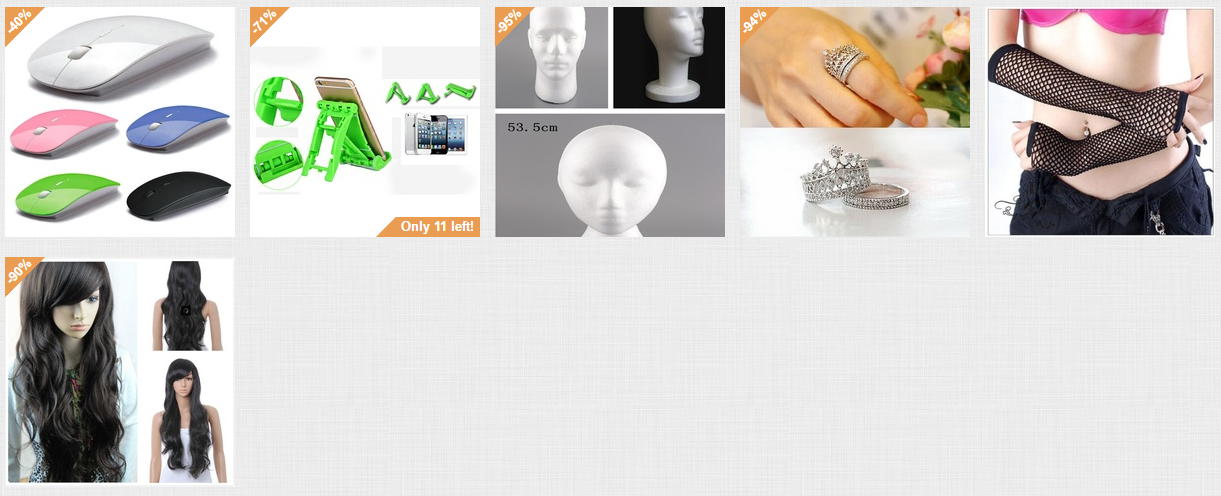 Pros:
Refunds seem to be an option. They even let you keep the item if it arrives after you get your refund so you may even be getting the item for free!
Low Prices!!
Wide variety of items to choose from.
Great clothes. Order very large sizes as these ship from China and their sizing types are different.

Bang for your buck!

Reviews and customer-submitted images give you a better idea of what you are getting.
Cons:
Long shipping wait times. (not so bad)
A few PORNOGRAPHIC items were in my feed advertising sex toys and there is no known way to block that. Shamefully there were even sex toys in the baby/kids section so watch yourself. That was the biggest turn off for me. God have mercy on our souls.
There's a chance of wrong color, wrong size. But you get what you pay for, shop smart. I don't recommend getting electronics here as things will be cheaply made. :P
Shipping is small but adds up because they charge shipping per individual item (usually for me 1-3 dollars) instead of as a whole order in your cart.
Items are from different sellers and will arrive at different times.
----------------------------------------
Switching up the shopping topic, I have to talk about something. I had to skip my anti-depressant meds most of the week because it gives me, ahem, bowel issues and Mom's toilet was screwy so she asked me not to go 'number 2' in there....so I didn't take them.
After coming home and shopping, I wasn't feeling 'buyers remorse' so much as I was ashamed of spending all that cash in one day (deals or not) so I had to pray it out, maybe it still weighs on me a bit now that I bring it up.
I went from 100 dollars to 11 dollars. Not so bad but still, hehe.
I felt like writing so that's a good thing. Speaking of which, I have been on more of an SL break than typical and thinking of editing my book once I get motivated. I will edit that thing to death, been writing it for probably 4-5 years now! -shakes fist- I don't care as much if it gets published, though.
It's just 'my' story.
THE story which has my heart and I'm this passionate about telling. :D
Today I am youtube marathoning on this vlogger I found after watching Wish.com testimonials. Tomorrow, God only knows. Take care. God bless, Jesus loves, lives, saves. Believing Jesus matters.
P.S. Harmony is three next month and my sister is converting to Islam. She has my support if thats what she wants to do. Praying for her. Yay!
More soon....

P.S. Kinda curious about the Ancestry DNA thing. Maybe I could do it one day if there is the expendable cash for it. XD Quite curious about my origins.