6:06 a.m. As usual, been expanding business more than ever in Secondlife. I caught a beauty pageant with the kids and spent time with Mom, early LAST month.
I'm supposed to be getting glasses on Monday.
I haven't been venting.
I'm ashamed to say my profanity usage has increased and that needs to change. Mostly because on Secondlife's glitchs.
At the time of this post, Future self, I rent six places and have two brands. This is the most recent shot of your temporary store: (If God willing it is a temporary one)
It looks all pretty and shiny.
Dark Cat stores are not on good terms with me as much as I wish otherwise, she refuses, so I must let be what be. She wrongfully accused me of plagiarism on a dress I made and we had to sort that out, (in the same conversation telling me she was wrongfully accused of something then banned from a group) then she made nice and blocked me thereafter.

April was blocked for being associated with me.
I have since given up answering the door for Donny and now it is common practice for Rob and April to get it. No, I still do not enjoy his banging on the door for as long as he can, waking me up several times weekly. I forgive him but I also gave up. Can't do it after a year, ya know?
We recently got an influx of donated groceries from April's parents, Mom got me over 300 dollars of new clothes last month which was needed, and more recently the laundry soap I needed to wash them. >.>
I've come to the conclusion I don't trust any man who resorts to the slightest flirtation with me. I've realized I want to marry a guy like my Dad, a laid back VERY non romantic nice guy. (I've never seen him in a suit once in my entire life of 27 years, not the formal or romantic type, not even the day he married my Mom.)
Below is my Dad on his wedding day back in 1986. No suit. Just casual shirt and slacks.

They also got married on a bridge next to a children's playground. :P
I haven't been dumping my emotions into my blog like I should. I'm on the cliff edge of addiction, if not poured over in it, with maintaining my existence in Secondlife. Not exactly putting God first which is a thin line to walk with Him. I feel He loves me though. I feel Him pouring over me as I write this, like a reassurance. :) God is real when you got things like that happening to you.
Mom gave me 90 bucks recently. 10 went into SL, another to join ipsy so my sis can get referral points, and more will be going into glasses after my much needed exam.
Still trying to turn SL into a business if I can just get over spending impulses like renting from Zoha and trying to be a renter and not keeping it, instead building the store above. Spent 2K on that, another 2 to pay a months rent on all my other shops...which helps in the long run. The more time I keep on those babies the less I worry. XD Made 4K last week and its gone, and thats where it went. Earned, not bought with real money, so I felt a bit better about that but still...I'll live.
April is lending me 200L so that helps so I can make stuff and get churning profit again. Full perm stuff really sells well in the first week and then sales slow again so it's odd.
Hopefully this addiction thing will change and I will resume a normal existence. I got my laundry washed last night, so that was a start.
I've really been wanting to post the latest Facebook posts of mine so here goes the greatest hits of the past month: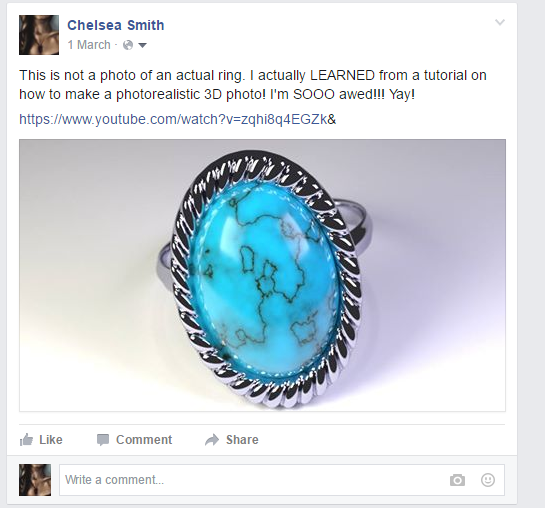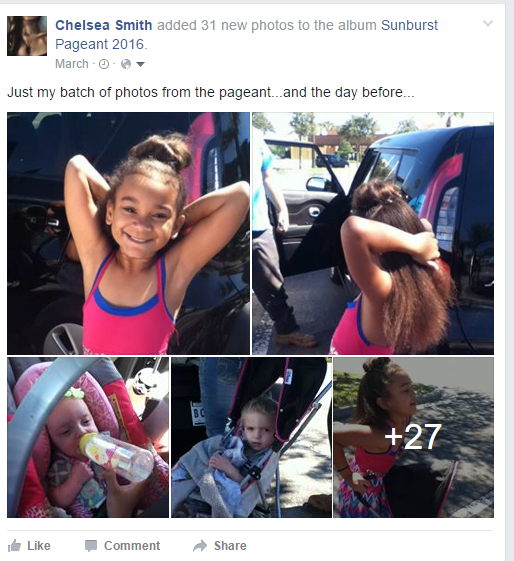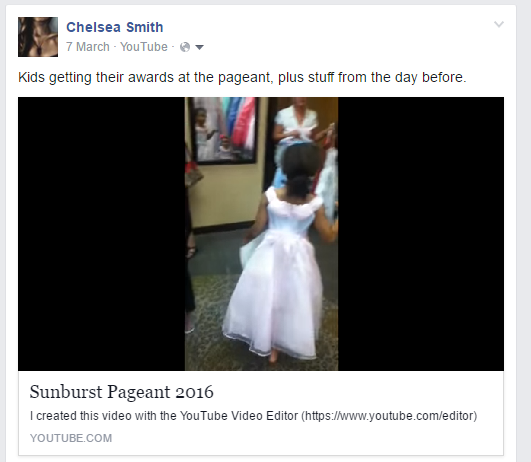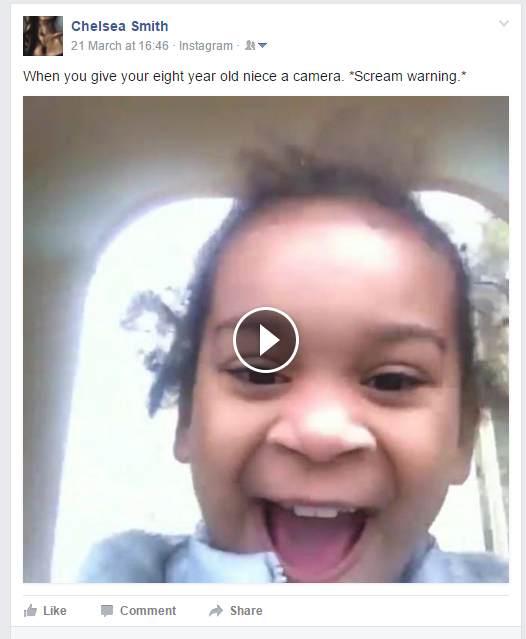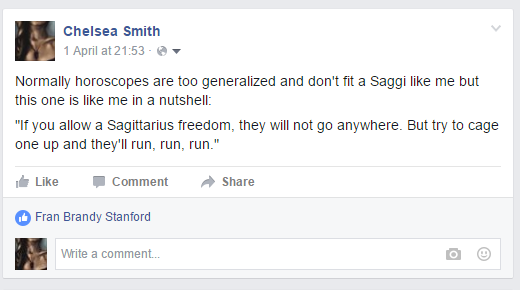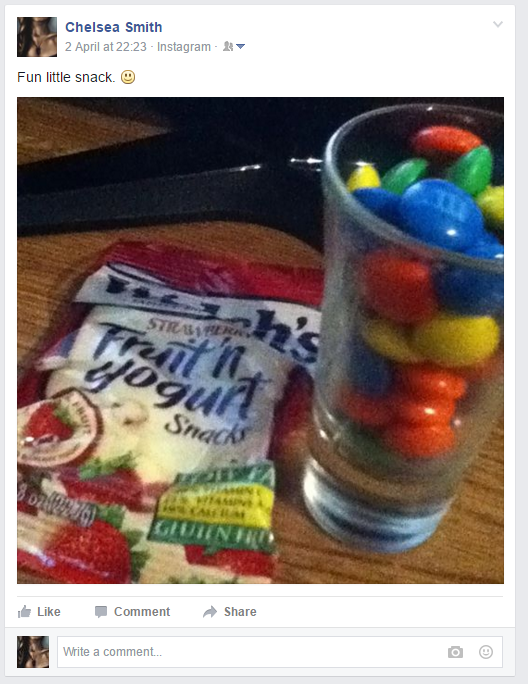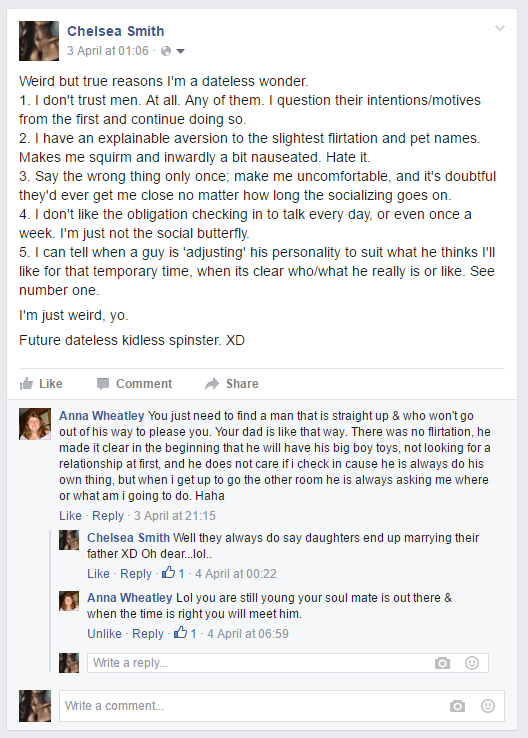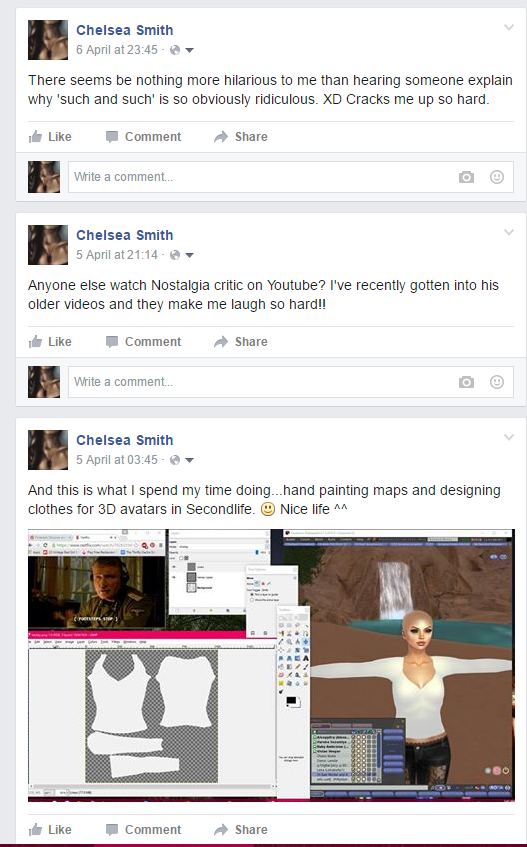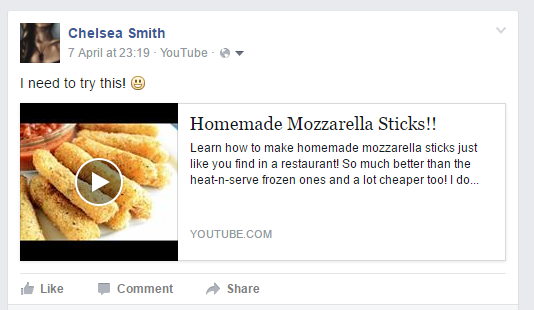 ALSO, April and Rob's friend came by and we all hung out. I'm my good ole' third wheel self as you know. We stayed up and I went to bed first, didn't sleep much.
Mom woke me up at 9 a.m. by tapping her nails on my window and I moaned in annoyance, thinking Donny had the nerve to do it. But I wasn't expecting her, as I thought I was going with Rob when he gets his glasses instead. But nope, she came :). As it turned out, the doctor was booked, so I go Monday.
Meanwhile they shopped and I made Harmony smile as I like to do. My night ended with Banzo sleeping in my bed. The animal answer to my prayers, and what have you. More soon....
Painted an avatar in my likeness is SL. Not for sale anymore though as it's too weird. XD
On a better note, I painted this new profile picture which I enjoy, featuring a top which I made for personal use only. :D She looks snarky but I love it. Wearing the Genesis Labs mesh head, Julia. :D
11:49 p.m. A whole day passed. We grocery shopped, I slept, and gave SL more of a break than usual. My laundry is drying, casts are fed, I still feel tired...though...very drowsy lately. But glad to not spent 15-17 hours on Secondlife today. >.> So far.